Written by Tammie White
When relocation buyers contacted us about purchasing a Franklin TN home suitable for a family of six, we began an exhaustive search to find them the right home. As is often the case, these buyers had never visited Franklin before. A job relocation was bringing them to town. After visiting several homes, they decided a new construction build was better
suited to their families needs.
We visited several new construction areas but the buyers had specific needs. They wanted their children to attend Grassland schools which limited their choices. Fortunately, their budget was such that Harts Landmark became an ideal choice. After meeting with Trace Construction, the buyers had found their builder. The nine-month building process began.
SOLD in Harts Landmark in Franklin TN: 2101 Granby Ct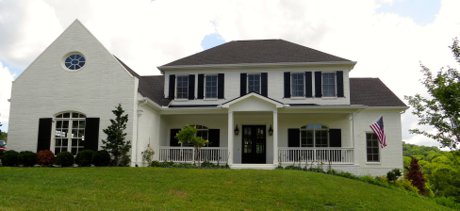 The buyers took possession of their new home at 2101 Granby Ct in Harts Landmark and couldn't be happier. We are thrilled we were able to help them find a builder and design a home to their stipulations. Franklin Homes Realty LLC is responsible for another SOLD home in Harts Landmark in Franklin TN.
A special thank you to the buyers for entrusting Franklin Homes Realty LLC with their home search.
Your Harts Landmark Real Estate Professional
Whether you are buying or selling in the Franklin real estate market, we would love the opportunity to earn your trust and business. We are well-versed in all types of residential real estate transactions including new construction and luxury homes. We will ensure your needs are our top priority.
Let us take the guess work out of looking for a home. To view a complete list of Franklin homes for sale visit www.FranklinHomesRealty.com. You can request a viewing right from the Property Details page once you see the right home. Or call us at (615) 495-0752 to meet.
Franklin Homes Realty LLC knows the Franklin TN real estate market very well and will help prospective sellers go from listed to sold. We would love to meet to show you what our online marketing looks like and how it can get your home sold.
Call Franklin Homes Realty LLC at (615) 495-0752 for all your Franklin real estate needs.
About Tammie White, Franklin TN REALTOR®
Tammie White is a REALTOR® and Principal Broker/Owner of Franklin Homes Realty LLC in Franklin TN. Tammie works with relocation buyers looking to purchase a home in Franklin and the surrounding Williamson County area. She understands the way buyers search for homes making her an invaluable asset to Franklin home sellers. Tammie's website, www.FranklinHomesRealty.com, has become the premier search tool for buyers relocating to Franklin and Williamson County TN. She has been writing a real estate blog since 2009 and been quoted in various publications including the LA Times, Skype.com, The Tennessean and Williamson Source.