McKay's Mill Homes for Sale
Why Do People Live in McKay's Mill?
McKay's Mill is located just east of Interstate 65 off Liberty Pike. This Franklin TN neighborhood sits on 540 acres with homes of varying styles and sizes. It has acres of parks, woods and walking trails. Ideal for buyers looking for lots of green space. Residents find the convenient location to Cool Springs commercial district and great amenities hard to beat.
What's the McKay's Mill Neighborhood Like?
There are approximately 1,500 homes in the McKay's Mill neighborhood of Franklin TN. There are six distinct sections; everything from the one-level condominiums of Park Run to the executive-style homes of Haddon Hall. They generally range between 1,500 to 5,500 square feet. The homes were built between 2000 to present mostly by Jones Company. The amenities include a park with playground, Olympic-size swimming pool, a 5,000 square foot clubhouse with fitness center, and plenty of green space with walking trails. McKay's Mill also has an active HOA offering residents a variety of activities for adults and children.
What Type of Activities are Offered Near McKay's Mill?
McKay's Mill Towne Center includes retail shopping such as Publix Grocery and Walgreens and an on-site daycare facility. You will also find office space, a dry cleaners and Jets Pizza. The new Columbia State Community College Campus is currently under construction on Liberty Pike. McKay's Mill is just minutes to the Cool Springs commercial are where you will find lots of shopping, including the Cool Springs Galleria. Some of the restaurants you will find nearby are Chuy's Tex Mex, P. F. Chang's and J. Alexander's to name a few. There is every type of shopping and dining experience you can imagine.
What Schools will McKay's Mill Students Attend?
McKay's Mill homes for sale in Franklin TN is served by two school districts; Williamson County Schools and Franklin Special School District (FSSD). Children within Williamson County Schools will attend Clovercroft Elementary, Page Middle and High School. Students within the FSSD will attend Liberty Elementary, Freedom Middle and Page High School.
What's Your McKay's Mill Home Worth?
Thinking of selling your McKay's Mill home and wondering what it's worth? Just click the photo below and be taken to our instant home valuation tool. Get your McKay's Mill home value instantly; no more forms to fill out and waiting for an agent to respond.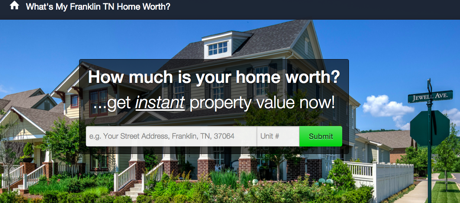 Searching for McKay's Mill Townhomes and Condos?
While you will find every listing in McKay's Mill below, click the links to go directly to McKay's Mill Condos for Sale and McKay's Mill Townhomes for Sale.
Want to Receive Market Reports for McKay's Mill?
Are you interested in receiving market report updates for McKay's Mill? Click the link to view the most recent sales data on this neighborhood. In addition, you can register for market report updates for McKay's Mill.
Let Us Help You Find Your McKay's Mill Home.
Below is a complete list of McKay's Mill homes for sale.
If you see the words INSPECTION, FINANCING or SALE OF HOME next to the word ACTIVE, then the house is already under contract with the listed contingency. When all contingencies have been satisfied, you will see the word PENDING, which means that these homes are waiting to close. Sellers may wish to continue showing their home if it's already under contract with a contingency. It is solely at their discretion.
For further assistance or to schedule a showing of a McKay's Mill home,
Call Franklin Homes Realty LLC today at (615) 495-0752.